michaeljung | iStock | Getty Images
Employers and workers will shell out more cash for health insurance in 2020.
Large companies predict the total cost of workplace health-care coverage to reach an average of $15,375 next year, according the National Business Group on Health. That's up from $14,642 in 2019.
This figure combines workers' and employers' spending on insurance. Employees are expected to shoulder about $4,500 in costs next year, including out-of-pocket spending, the group found.
The organization, which represents large employers' perspectives on health-care policy, polled 147 large employers to get their perspectives on health-care trends.
Employees with families face even steeper costs.
In 2018, employers spent an average of $15,159 in premiums to cover a family of four, according to the Kaiser Family Foundation.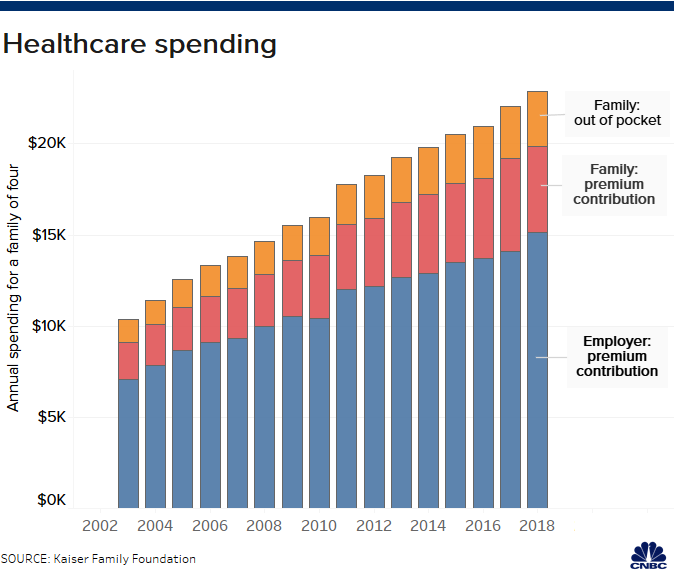 Those workers paid a total of $7,726 in 2018. Of that, $3,020 came from cost-sharing, including deductibles, coinsurance and copayments.
"Employer premiums are going up; they pay more each year," said Cynthia Cox, vice president at the Kaiser Family Foundation. "But so do the employees and their families."
Paying more
JGI/Jamie Grill | Blend Images | Getty Images
Deductibles — the amount you must pay before the insurance company provides benefits — now account for more than half of workers' out-of-pocket spending, Kaiser found. That's up from 26% in 2008.
Indeed, among workers in a plan with an annual deductible, the average for single coverage in 2018 was $1,573, Kaiser found.
The average was even higher for high-deductible health plans: $2,349 for single coverage.
High-deductible plans, however, often come with a health savings account or HSA — that is, a tax-advantaged account that allows workers to save pretax dollars, grow their money free of tax and use the money for qualified health expenses.
Employers have noticed that these deductibles can be steep for employees, leading some to shy away from offering exclusively high-deductible plans.
In 2018, about 4 in 10 of the employers polled by the National Business Group on Health offered exclusively high-deductible plans.
Only a quarter of employers say they will follow this tack next year. They are reintroducing options, namely a preferred provider organization plan.
So-called PPOs allow you to visit any in-network provider without getting a referral from your primary care physician.
What to expect
damircudic | E+ | Getty Images
With employee benefits season around the corner, workers should expect to see a few changes for 2020.
Narrowing provider networks: Depending on the employer's location, companies may decide to limit the providers a worker can access in a given geographical area. In exchange, employees may get lower premiums and deductibles, Kaiser's Cox said.
Using accountable care organizations: Employers coordinate with insurers to create a network of primary care physicians and specialists that work together to manage a patient's care from start to finish.
This is known as an accountable care organization.
More from Personal Finance:
Bernie Sanders wants to replace private credit reporting firms
Want to invest like Warren Buffett? Recognize your emotions
These new accounts aim to help you beat inflation
Greater use of virtual care: Telemedicine, or virtual care, puts employees in touch with a nurse or doctor for different conditions, allowing them to skip a costly visit to the emergency room.
More than half of the respondents in the National Business Group on Health survey said they will offer more virtual care programs in 2020.
"Virtual care solutions bring health care to the consumer rather than the consumer to health care," said Brian Marcotte, CEO of the business group.