A worker assembles truck engine cooling module components at the MAHLE Behr Charleston Inc. auto part facility in Charleston, South Carolina.
Luke Sharrett | Bloomberg | Getty Images
There have never been more Black and Hispanic Americans in the workforce, Friday's Labor Department job report showed.
The jobless rate for Hispanics hit a record low of 3.9% in September, while African Americans maintained its lowest rate ever, 5.5%.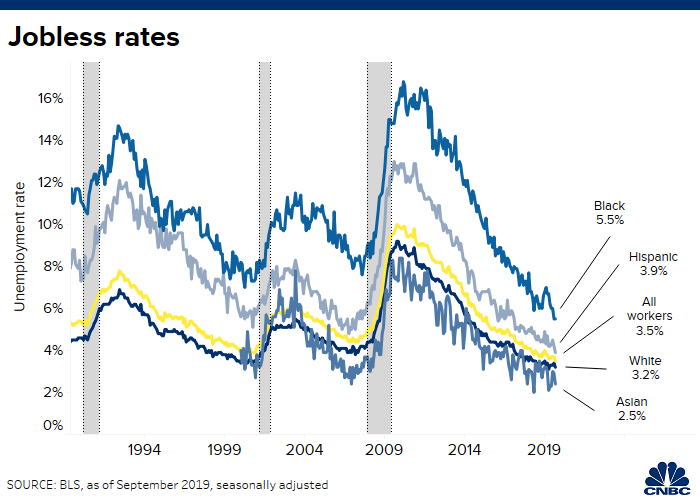 The Hispanic women unemployment rate was 3.8% in September and the Black adult women jobless rate was 4.6%.
"The best numbers that we've ever had: African American, Hispanic American, Asian American, Women, everything. We have the best numbers that we've had in many, many, many decades, " President Donald Trump told reporters on Friday.
The unemployment rate for Asian Americans was 2.5% in September. The jobless rate for adult women came in at 3.1%.
Another bright-spot of the report was the overall unemployment rate. The jobless rate dropped 0.2 percentage points to 3.5%, its lowest reading in 50 years. Nonfarm payrolls rose by just 136,000 in September, below economists' expectations of 145,000, according to Dow Jones.
"We have the best economy we've ever had, we have the best jobs numbers in 51 years, the best unemployment numbers that we've had in a half a century," Trump added. "People are working, they're making money."
Wages rose just 2.9% for the year, the lowest increase since July 2018.